Following on from my conversation with Barry, CEO of Cambus Medical, here are my stand out pieces of Advice to help you live live On You Terms
Abandon any hope of fruition – tomorrow might never come
Do your best for now in this min and this hour
Keep doing the right things and everything will work out
Trust in yourself
Do no harm to others
Manage your mental health; do physical exercise and set aside time for yourself.
Become an expert in what ever area you want to be in business – take that ten thousand hours, don't get into a business unless you are an expert in your field
Embrace the weird – be yourself. It allows you to be creative and different.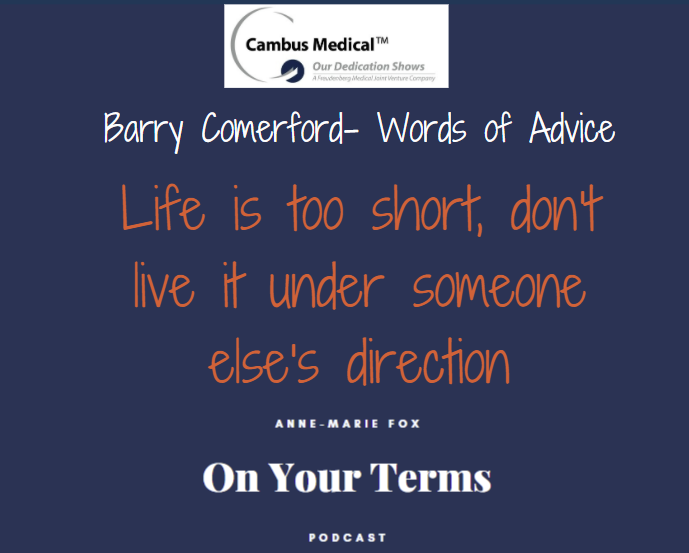 Life is too short so don't live it under someone else's direction
Books
The Practice of Management – Peter Drucker
Crucial Conversations – Patterson | Grenny | McMillan | Switzler
The Unsung Hero – Michael Smith
The Greatest Game Every played – Mark Frost
https://www.cambusmedical.com/
Anne-Marie Fox Consulting, annemarie@amfconsulting.ie www.amfconsulting.ie AMFConsulting
,,https://twitter.com/AnneMarie_Fox
https://www.instagram.com/on_your_terms/
https://www.facebook.com/onyourtermspage
#onyourterms #advice #wordsofadvice #careerchange ,#motivation ,#inspiration ,#entrepreneurlife ,#business #entrepreneur #goals #meddevices #medicaldevices #galway #ireland #careercoach #careercoaching #lifecoach #lifecoaching #careerdevelopment #careerchange #newventure #lifestyle #choices #worklifebalance #entrepreneurinspiration #entrepreneurgoals #beyourownboss #businesscoach #businessowner #createyourlife #goalsetting #goodlife #makeithappen #personaldevelopment