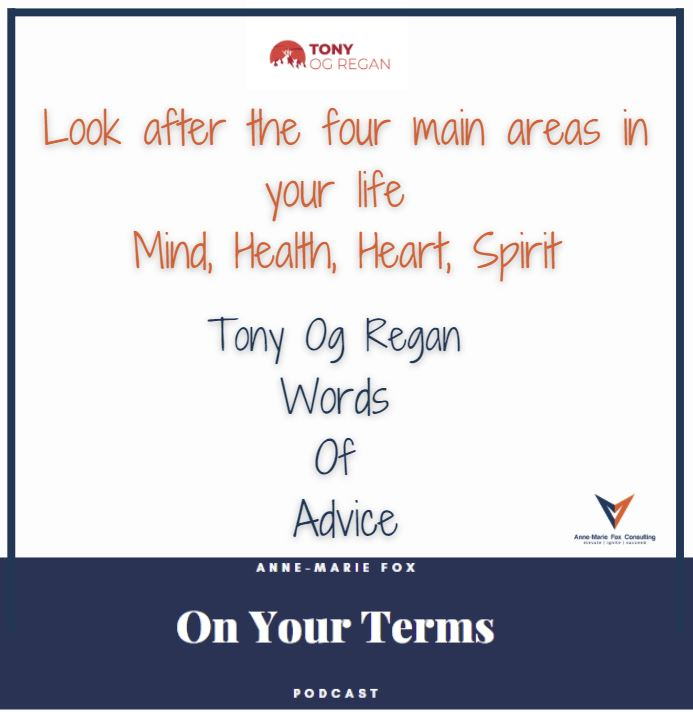 Tony Og Regan – Words of Advice
https://www.facebook.com/tonyog.regan
https://www.linkedin.com/in/tonyogregan/
https://www.instagram.com/tonyogregan/
https://twitter.com/TonyOgRegan
Start your day with meditation.
Look after the four main areas in your life MIND HEALTH HEART SPIRIT
Be calm and at ease with yourself
Inner Calm
Inner confidence
Inner belief
It doesn't have to be an overnight decision if you are making a change.
Try to find work/Projects that light you up.
Ask yourself, what is your purpose.
Ignore the self-talk.
Find your OWN inner happiness, don't be looking at something external to make you happy.
Books/Podcasts
Damian Hughes – The High performance Podcast
Jay Shetty – The Jay Shetty Podcast
#growth #onyourterms #gaa #sport #tonyog #dreams #passion #innerpeace #meditation #livelife #podcast #wordsofadvice #purpose #goals #values #vision #performancecoach #Psychologycoach #personalgrowth #careerchange #motivation #inspiration #business #coach #psychology #careercoach #careercoaching #lifecoach #lifecoaching #careerdevelopment # #lifestyle #choices #worklifebalance #createyourlife #goalsetting #goodlife #makeithappen #personaldevelopment
Instagram https://www.instagram.com/on_your_terms/
Facebook https://www.facebook.com/onyourtermspage
Linkedin https://www.linkedin.com/in/foxannemarie/