Anne-Marie Fox Consulting
AMFConsulting
www.amfconsulting.ie
annemarie@amfconsulting.ie
For more information on Bricks4Kidz
Website: https://www.bricks4kidz.ie/galway/
Email: ,uhall@bricks4kidz.com
Facebook: https://www.facebook.com/B4KGalway
Instagram: https://www.instagram.com/bricks4kidz_galway/
Twitter: bricks4kidz.ie/galway/
Una Hall – My Words Of Wisdom
Una Hall's top three pieces of invaluable advice when changing to live your life on your terms.
Get out and talk to people who have already made the change, talk to other people that are self-employed. Ask them to let you know what it is like, the good and the pitfalls.
Have someone that you trust to give you advice and challenge you. Bring people you trust to give you honest advice and feedback into your inner circle
Take your time over the important stages when setting up – Accounts/legal etc.
For anymore information on the On Your Terms Podcast or Career/Life Coaching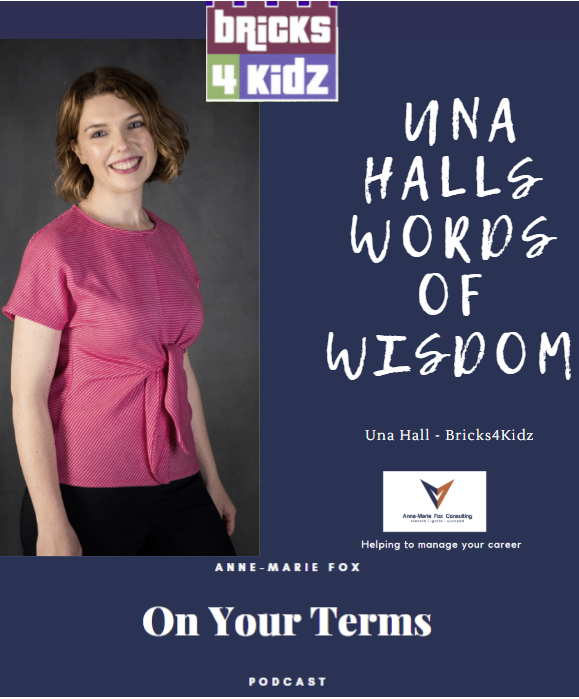 please contact me at annemarie@amfconsulting.ie
https://www.instagram.com/on_your_terms/
https://www.facebook.com/On-Your-Terms-109801037458760
https://twitter.com/AnneMarie_Fox
https://www.linkedin.com/in/foxannemarie/
Anne-Marie Fox Consulting
AMFConsulting
www.amfconsulting.ie
annemarie@amfconsulting.ie