Anne-Marie Fox Consulting
AMFConsulting
www.amfconsulting.ie
annemarie@amfconsulting.ie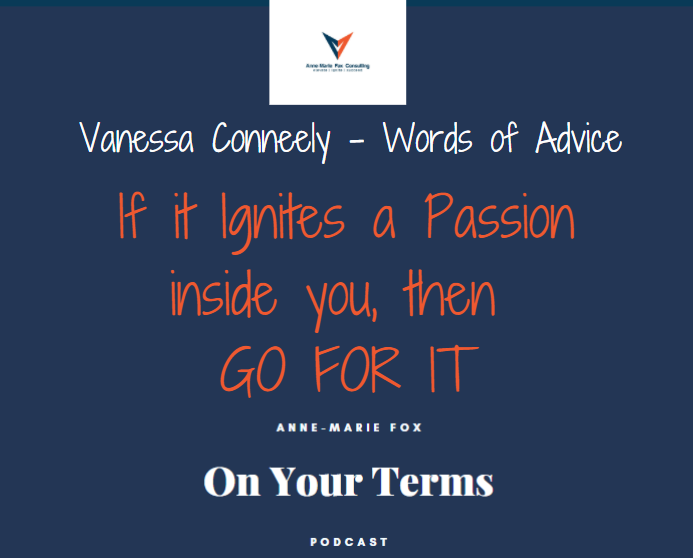 Vanessa's top tips for living life On Your Own Terms
Keep busy and stay creative in any way you can.
Go with your passion – Vanessas passion since she was 11 has been climate change/environment/recycling/human rights, and her decisions through out her career have always been based on these passions.
Surround yourself with people that inspire you
Although Vanessa didn't get her first choice of journalism, she still focused on her end goal and completed her degree and went back to do her master's in journalism. There are always ways of getting there. Be flexible with yourself.
If you are looking into another career or job, don't quit your job straight away. Do a bit of work in the direction that you think you might want while keeping your job. Decide then if it is for you; if it ignites a passion inside you, then go for it
You don't always have to go back to college – look at your transferrable skills
Take risks – one person's risk is another person's Monday morning
Loosen the reigns with everything – Step back, let it happen. Not everything has to be perfect, enjoy it as it is.
Thoughts equal things (tip she picked up from "The Secret" by Rhonda Byrne), allow yourself to have positive thoughts, this will lead to positive emotions. Visualize positive outcomes, for example in an interview – visualize the outcome you want.
www.amfconsulting.ie
https://www.facebook.com/On-Your-Terms-109801037458760
https://www.linkedin.com/in/foxannemarie/
https://www.instagram.com/on_your_terms/
@AnneMarie_Fox