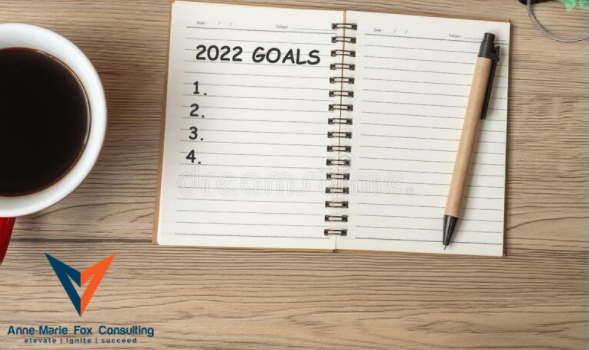 Do you look at the New Year as a new start?
When you get back into the office, open your laptop or just turn up for your first day back in work after the holidays what do you hope for?
Instead of hoping for something this year, make it happen!!!
Here are my 6 tips for the New Year to set you up for success throughout the year. Whether you want to get a promotion in your current role, move to a new company or change career totally, you need to set goals…and goals without a plan is only a dream…..
Journal
Get a Journal/Notepad that you will keep beside you daily. Each day write down your 6 goal achieving activities that you need to complete that day.  This can be anything from, calling back a client, to sending an email; once you have written these 6 activities down, you know they have to be done. There is such a great sense of achievement crossing out each activity when you have it completed.
What works for me? At the end of each day, I write down my 6 must do goal achieving activities, so when I start work the following morning, I have a purpose and a mission. It sets me up for success for the day, the week, the month, the year….
Personal Brand
Whether you are looking for a promotion or to change companies, you firstly need to define who you are in the workplace. There is so much talk about personal branding at the moment;
Do you know what your personal brand is?
Do you know what you want it to be?
Think about someone you admire in with workplace, what would you say about them when you think about them? Would you say, "They did an amazing job on that last project?" – this is their brand. You need to be intentional about working on your brand, both in person and online. Start building you brand by "ACTING AS IF". Think about what you want to be perceived as, then start acting like this in work. If you want to be confident – act confident etc.
This also spills over onto your online profile; how does your LinkedIn profile look? Do you need to update it for the new year?  Have a think about how it looks to other people. Make sure you have a professional photo. In the "About Me" section, you need to have your "personal brand" here. (look at doing a Branding exercise to help you more with this)
New Resume
When is the last time you have sat down and looked through your CV? Is it up to date? Modern? Is it what hiring managers want to see? Make it a goal for yourself to spend some time looking at your CV and getting it up to date, ready to be sent off for new roles or internally for that promotion you really want. It is always best practice to keep your CV up to date and current available for when ever you might need it.
Expand your network
Whether online or in person, the best way to advance your career is getting to know more people in the business. Look at the people you admire and who you want to work with. Pick up their business card or link up with them on LinkedIn. Meet them for a coffee, in person or online, expanding your network will lead you in ways you never expected and will help you advance your career.
Sign up for one new course this year
No matter what career you are in, you never need to stop learning. Learning will help you grow. It might be a certification you have always wanted or a course you feel might benefit you, what ever it is, decide now to take that step and sign up to it. You will thank yourself when you are finished. Not only will you have improved your knowledge, but you will also have opened up a network of people to engage with.
Get yourself an accountability partner
Having goals is great, however achieving them doesn't always seem to happen for everyone. We all start with great intentions, but unless you have someone to push you on, it is easy to forget about them.  Having an accountability partner/career coach can really push you in the right direction here. Ask a colleague or sign up with a coach to get you set up for success. You can be someone else's accountability partner. You are 65% more likely to reach your goals with an accountability partner.
For more information or to discuss your goals for 2022, feel free to reach out to me at Anne-Marie Fox, annemarie@amfconsulting.ie
Instagram https://www.instagram.com/on_your_terms/
Facebook https://www.facebook.com/onyourtermspage