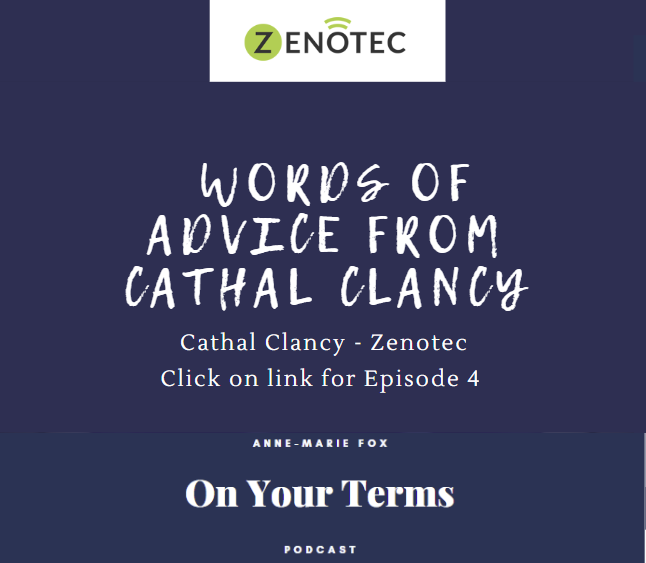 Anne-Marie Fox Consulting
AMFConsulting
www.amfconsulting.ie
annemarie@amfconsulting.ie
Podcast Available
https://www.amfconsulting.ie/podcast/episode/323e0841/on-your-terms-episode-4-cathal-clancy
Spotify: https://open.spotify.com/episode/3O8e9qMUCONldyDf6az3mn?si=bu7xKMumT2692xG6-TWsWA
Apple Podcast: https://podcasts.apple.com/ie/podcast/on-your-terms-episode-4-cathal-clancy/id1521669505?i=1000485259663
Website: www.zenotec.ie
Email: cathal.clancy@zenotec.ie
Phone: +353 (0) 87 633 4750 or +353 (0) 91 397 488
LinkedIn: https://www.linkedin.com/company/zenotec/
Cathal Clancy pieces of invaluable advice when changing to live your life on your terms.
Follow your Gut.
When you get that feeling that it is the right thing to do, trust that feeling.
It is all about the people you surround yourself with. Your employees and your customers.
What ever you are doing, be busy.
Make sure you have an outside interest, not just work and home life. Have somewhere else where you can go to have some downtime, a hobby, a passion etc.
When trying to pick his new career after coming back from travelling, Cathal invested both time and money in a career coach which set him up for success and brought him to where he is today.
Remember you are being interviewed to be offered the job, you don't have to accept it. Make sure it is the right job for you.
Books and Podcasts that Cathal Recommends
Screw it, Let's do it – Richard Branson
Against the Rules Podcast with Michael Lewis
For any more information on career coaching/career advice or life coaching, please contact me at annemarie@amfconsulting.ie or 087 9728431
Anne-Marie Fox Consulting
AMFConsulting
www.amfconsulting.ie
annemarie@amfconsulting.ie