Anne-Marie Fox Consulting
AMFConsulting
www.amfconsulting.ie
annemarie@amfconsulting.ie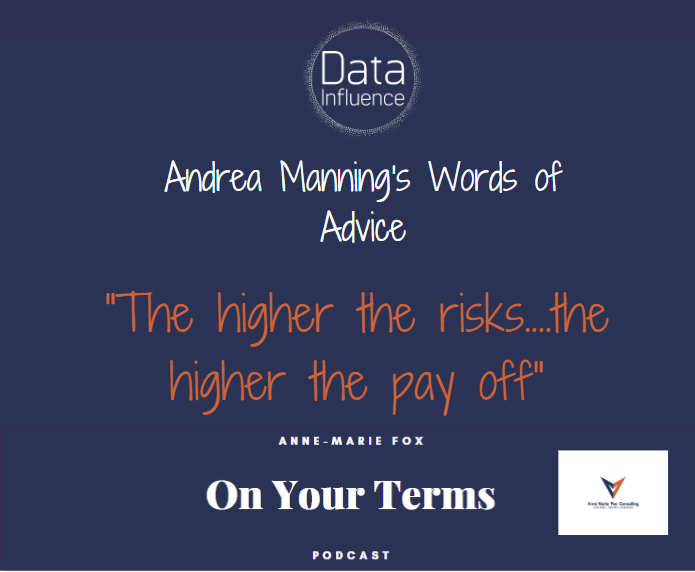 Website: www.datainfluence.ie
Email: mail@datainfluence.ie
Phone: +353 89 4297806
LinkedIn: https://www.linkedin.com/in/andreamanning1/
Twitter: https://twitter.com/andrea_data
Facebook: https://www.facebook.com/datainfluence
Instagram: https://www.instagram.com/datainfluence/
Andrea Manning advice when changing to live your life on your terms.
"100% living on my own terms – it is not an easy option – but the payoff is still sweeter."
Break everything down into small more do-able pieces. For example, when Andrea took on the task of going back to college, she looked at each semester as a 12 week block and this kept her motivated and focused. This was her entire strategy to get through college.
Start building your network from the start. For Andrea this is one piece of advice she wishes she had known sooner. From the first day in college she wishes she had started building her network.
"Fortune favours the brave – do the crazy stuff – it always pays off – the higher the risk the higher the payoff"
"You need to feel uncomfortable for things to happen; Change will only happen when you are outside of that comfort zone"
"Always learn from others."
"Be yourself and give back"
Books/Podcasts on Andreas list include:
Book
Invisible Women: Exposing Data Bias in a World Designed for Men – Caroline Criado-Perez
Podcasts
How to Fail with Elizabeth Day
Happy Place with Fearne Cotton
Annemarie@amfconsulting
https://www.facebook.com/On-Your-Terms-109801037458760
https://www.linkedin.com/in/foxannemarie/
https://www.instagram.com/on_your_terms/
@AnneMarie_Fox
Anne-Marie Fox Consulting
AMFConsulting
www.amfconsulting.ie
annemarie@amfconsulting.ie